Thai Elephant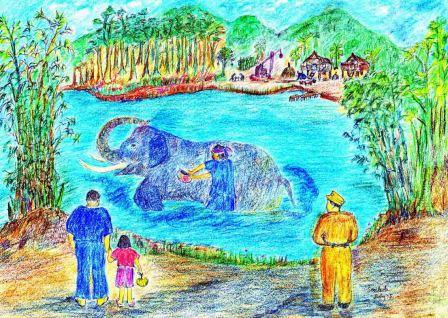 This little song to the great Thai Elephant is dedicated to Lung Jai, Sergeant Jai Takachad.
Lung Jai at Hang Chat
Policeman Heart had hung his hat
Here in this village of Hang Chat
He was always very nice
And only ate a little rice
As he made his way around
Ensuring all was safe and sound.
He took his time to have a chat
With all the folks of old Hang Chat
And when he spoke he was polite
As he saw that things were right
So they called him Uncle Jai
Because his heart was truly Thai.
And in those days of Uncle Jai
If we looked up to the sky
There was a flag for all the Thai
Of perfect elephants flying high
Where they stood for all the free
As pure as rice for all to see.
But when new rice was sown
And Uncle Jai had gone
A new Hang Chat was grown
And everything went upside down
'Til a different flag was flown
On which no elephant was shown.
Yes once we took you for a task
Then we took you for a tusk
Yet in Hang Chat there is some hope
That mahout will surely cope
To find you fruit and bamboo shoot
And leave machines your woods to loot.
Now in this world so modified
How is it that your crinkled hide
Seems as though it's leather skinned
Containing flesh that's simply binned
For it's really hard to find
The food that's needed for your kind.
So mahouts depend on grants
To maintain their elephants
For they've simply faced the fact
That when they're sacked they need to act
With no more work for them to do
They dance and paint as in a zoo.
And of their spirit there seemed few clues
As their skins were turned to shoes
They seemed no more the beasts of Kings
But roamed the streets as useless things
While in the west the elephant sings
And finds its ears have turned to wings.
So down you sank unto the feet
As if the world had got you beat
But the Thais stayed full of heart
And felt they should take on your part
So where Lung Jai had spent his day
A place was made for you to stay.
So here among the gentle hills
The old mahout transfers his skills
And ways of saving are embraced
That before could not be faced
For this song can now be sung
Upon a sheet of elephant dung.
At Hang Chat you're free to roam
Though it is a working home
Where we find that all's correct
Because the creature has respect
For all the elephant does is wise
And of value to the Thais.
© Thomas Albert Fox
In Thai Uncle Jai literally means "Uncle Heart" (Ĺاă¨) which was the name of the local policeman at Hang Chat for many years until his retirement and death a few years later in 1986. Hang Chat (Ëéҧ©ŃµĂ) can perhaps be traced to being a reference to a crows-nest type tower built possibly in the jungle for observing and hunting game in the old days. It may have looked a little like the Thai state "umbrella" (©ŃµĂ) and thus we have "Hang Chat" as "place of the umbrella tower". It is now the home of The Elephant Training School in Lampang Province Northern Thailand. The first such school in the world to train elephants in their original skills in lumberwork. The school aims to retain the traditional skills and knowledge of the mahouts. While the elephants do perform to entertain the tourists both Thai and foreign, they essentially train in the traditional forms of jungle work. In the picture we see a Thai elephant happily bathing with the help of his mahout, watched by Uncle Jai the policeman and Uncle Soom with his little niece Nong Lek. The song tries to epitomize the plight of the Thai elephant after the decline in the lumber industry and its shift to mechanized traction. It looks at the problems initially encountered, even to the loss of the elephant as symbol on the Thai flag many years ago. The song finds that the Thais have restored the elephant to its rightful place as a symbol of their country and as a Royal creature of great stature whose care is a matter of national pride. The ecological prowess of the Thais is exemplified by the many ways they conserve and employ the natural resources required and produced by the Elephant, including the extraordinarily beautiful paper produced from elephant dung. Hang Chat's web site is at:- http://www.tcie.com/elephant.html and another excellent site on Thai elephants is at http://www.thai-elephants.com/